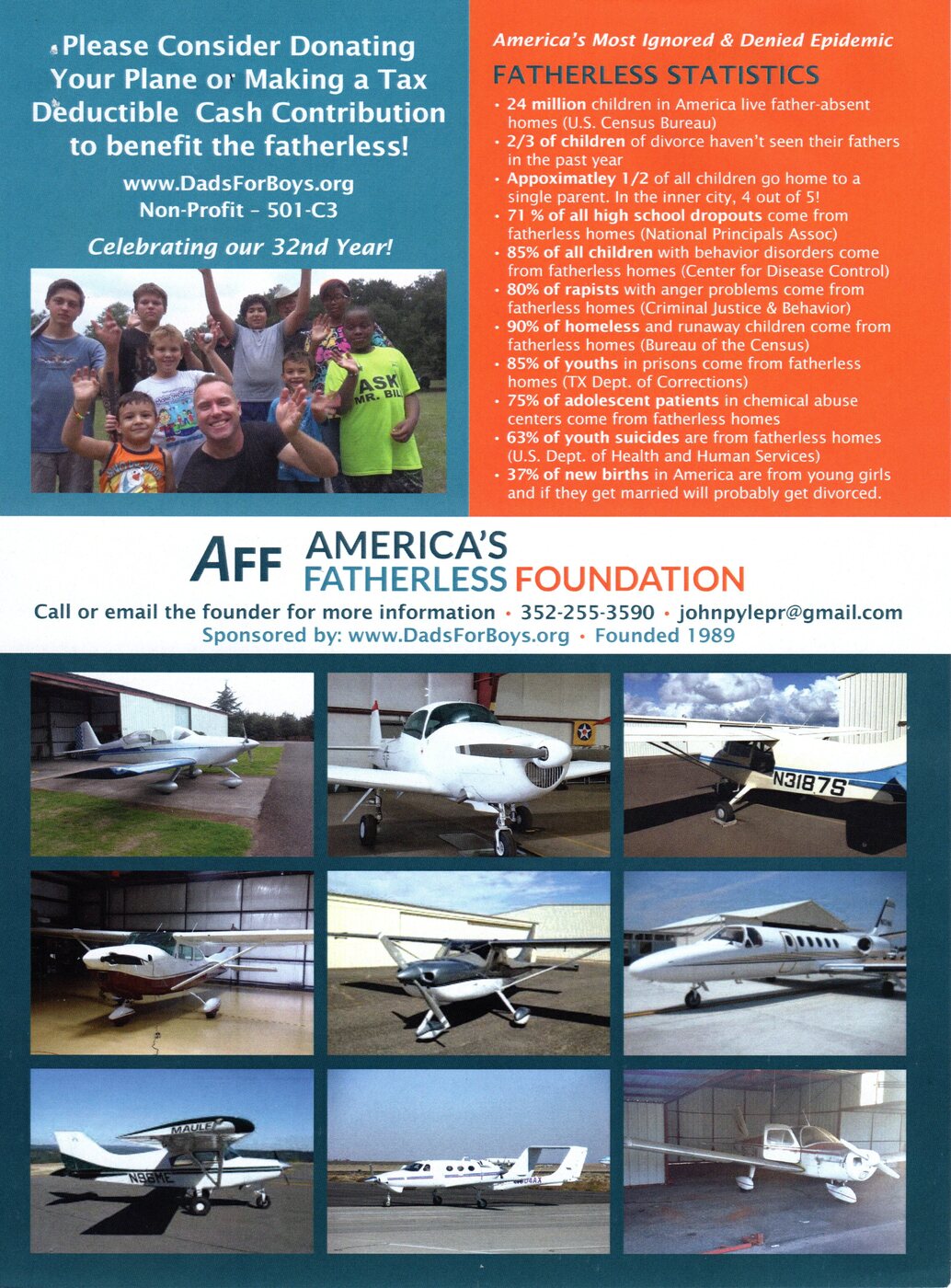 Dads for Boys International is a non-profit that helps in need kids find mentors. This is the story about our trip to see Eustis aircraft charity.
This time we had an appointment, no surprise cold call. 
John Pyle founded Dads For Boys in 1989. They started with 240 acres of land on the north shore of Lake Yale in Umatilla, Florida. The vision of Dads for Boys Ranch became a reality..
Activities included:
Lots of fun things.

Fishing Tournaments
Campfire Talks
Hiking
Boating
Field Trips
Support Groups for single moms
In 1994 they went international with 7 chapters in Venezuela. Then in 1999 expanding to San Juan, Puerto Rico.
Today the ranch has downsized to a smaller waterfront property in Eustis, Florida. The activities and youth mentoring continues.
What makes this non-profit unique and how it caught our attention, is the way it raises money.
John, who had been a young pilot, still enjoys aviation and aircraft.
It is no surprise that there are many older out of service aircraft. By talking to mechanics at FBOs and visiting trade shows John found people who were willing to donate aircraft.
As it turns out, there are a fair number of aircraft owners who have more than one. Sometimes, the older aircraft just sits and is never used. Could be a mechanical issue, needs maintenance or the owner just doesn't use it anymore.
In some cases, these aircraft are sold as is, for parts or restored. The donor is given a certificate for the value of the sale or may use an appraisal for a tax write off.
Dads for Boys will take any aircraft from anywhere in the continental U.S. To date they have received single engine planes, jets and even helicopters. Check out the video we shot on our visit where John talks more about the aircraft.
Anyone seeking to donate or wants more information can visit dadsforboys.org. You can also contact us at talk@aircraftguys.com.
And if you have a cool aircraft story let us know. Maybe we'll see you soon !
Our Trip To See Eustis Aircraft Charity